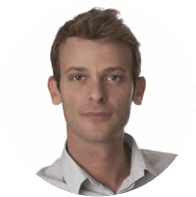 "The Hair Growth Studio allows you the flexibility to adapt your image as fashions change."
I started losing my hair at 17, by 18 I was almost totally bald, it was devastating, I couldn't imagine what my future life would be like without hair, my parents supported me but were very worried.
One day Mum handed me a The Hair Growth Studio brochure and said that she had booked a consultation for me. After the consultation I immediately agreed to go ahead. When the process was carried out I was transformed back to my old self again. It was the best moment of my life. That was 15 years ago, I have changed my image many times and still continue to do so.
My friends couldn't believe the changes in me, they can't understand how I can change my image so easily.
If I suddenly decide I want hair 12″ long then I can have it without having to wait 2 years to grow it. In fact a few of my friends have recently become The Hair Growth Studios' clients themselves.
Replacing my hair has turned my life around, I don't want to imagine what life would be like without a full head of hair. Since my own hair replacement I have become a hair stylist myself.