Are you looking for non-surgical treatment for hair loss in Manchester? Do you have low self esteem and lack of confidence? Do you wish you could find hair systems in Manchester that make you feel whole again? Then why not restore your hair and your confidence with the Hair Growth Studio, the premier hair clinic in Manchester.
Watch All Transformations
We have spent a long time researching and developing one of the best non surgical hair loss replacement techniques available for men and women.  We deliver it at an affordable price and there is no need to go under the knife. Our hair clinic in Manchester is well renowned for our non-surgical solution and we attract customers from all over the UK to help them solve their problem.
Get help from the Hair Growth Studio today – the most reliable non surgical hair replacement in Manchester.
I would like to give a huge thank you to Lisa and the team at HGS. I was a bit apprehensive about having a hair system, yet Lisa and Debbie, the stylist, explained everything and after going ahead I have no regrets. The clinic is in a quiet and discreet area. All the staff are so friendly and helpful. I am sure they will look after for years to come. Highly recommend HGS
What a brilliant salon, I have had a bad experience with my last hair piece, but the hair growth studio is completely different, not only did I have my own private cubical, given tips on how to get the best out of my hair piece and advice on products to use, the staff were unbelievable and made me feel completely at ease, the style produced at the end made me get a little emotional as this is what I have wanted with my hair piece and is was perfect! I could not recommend the hair growth studio enough. Ten of ten!
Life changing experience from the moment i had my consulation. I was toying with the idea previously but after a 30 minute chat i was convinced. I haven't looked back since. The service is always on point when i go back once a month and the girls always look after me.
I have been a customer for to long to remember my stylist is Michelle who has looked after me for many years and always does a first class service would highly recommend the hgs and keep up the good work. Regards Graham logan
mark entwistle
2021-12-07
Michelle my hair dresser is first class! She's even funny! Which is good for a woman😃 Always gets me in on time! Well done happy Xmas xx
Bernard Sutcliffe
2021-12-06
After having a hair system fitted from a different company which wasn't that great, I decided to search for another company. I came across The Hair Growth Studio so I decided to give them a call. The owner Lisa invited me to a free consultation and when I arrived there she was so understanding and made me feel comfortable. I had my first hair system fitted by Debbie and then each appointment after that I would either be seen by herself or Carris. These 2 girls are absolutely amazing at their jobs and I couldn't believe how amazing the results were. I have now been a customer for nearly a year now and I've never been so happy.
After suffering with hair loss for years having various different hair extensions I eventually found hair growth solutions in 2020 after having my initial consultation with Lisa, In February 2021 my life changed, I had my first fitting for my new hair and wow it felt and looked amazing. I have not looked back, the staff and service you receive are 100% my confidence is back and i can now look in the mirror to see the hair I absolutely love. Thank you everyone for giving me my lovely hair
I will be forever grateful to Lisa and all the staff who have looked after me with care , consideration and kindness. Thank you
 Non Surgical Hair Replacement in Manchester – Hair Loss Solution
This completely painless, non surgical hair replacement is the chosen solution by many.  The process for our hair systems in Manchester is as follows:
We take sample of your hair and create hair that matches your hairs colour and texture
The hair is put on a skin membrane which is then bonded to your scalp with no pain involved
The new hair is then weaved in amongst your own for a natural look
Your privacy is important to us when visiting our hair clinic in Manchester. The procedure is carried out from start to finish in a cubicle complete with hair washing facilities.
Our staff are both friendly and understanding, they see hair loss for many reasons day in, day out so rest assured you can be at ease throughout the whole process. Once your hair system is in place, the hair replacement system will then require maintenance appointments in the same way that you would have with a regular hairdresser. You can continue to dry your hair as normal and participate in sports – including swimming.
The Best Hair Clinic in Manchester – Before & After
These are the transformations we have been making for our clients using advanced hair systems in Manchester: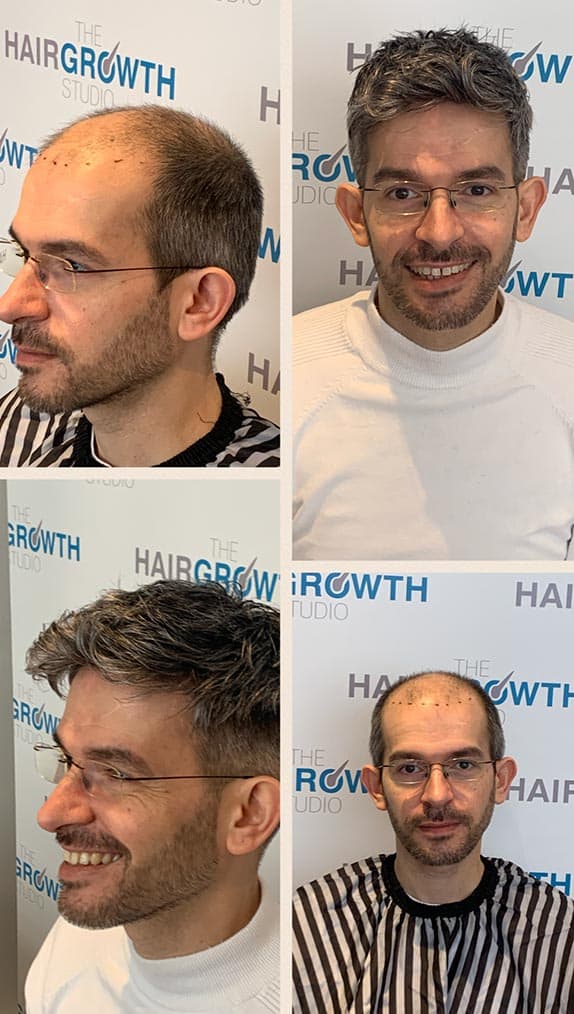 How Much Does Non-Surgical Hair Loss Replacement In Manchester Cost?
Everyone is unique and have different requirements so each quote we give is for each individual. We offer a high quality service and have over 20 years experience in this field right here at our hair loss clinic in Manchester.  All of our staff are fully trained in cutting and bonding hair.  The skills required to do this are different to regular hairdressing and therefore takes a long time to delivery the natural looking results that we provide.
Average Price For Men
In the region of £550 for implementation then £54 per month for maintenance.
Average Price For Women
In the region of £1200 for implementation then £60 – £80 per month for maintenance.
A Trusted Manchester Hair Loss Clinic – Our Testimonials
Everyone at the studio are very friendly and put me at ease straight away. On my first visit the whole process was explained to me and they were happy to answer any questions and concerns I had. I have been back several times now for a full fitting and maintenance; each time they have expertly styled my hair and were happy to advise me on how to keep my hair looking it's best between visits. They are excellent at what they do and alway provide a first class service. I highly recommend the Hair Growth Studio to anyone that is experiencing hair loss and wants to build their confidence back up.


I was very nervous about the whole procedure but from the moment I entered the studio Lisa and her team put me at ease!
They are completely professional but very understanding, sympathetic and helpful. I cannot fault the service I received or the product and the end results! Totally amazed and would recommend them to anyone who is considering visiting the hair growth studio!! Changed my life. Cannot thank them enough!!


I was loosing hair in my 30's. I went to the studio for help & vanity reasons & now over 20 yrs later it's the best thing I ever did & never wanted to go to any other. Everyone is more than capable to help you & due to the nature of the procedure, they're always sensitive & discreet so don't hesitate to go. I will be forever grateful to Lisa, Michelle & the team over the years for their support.
Thank you to all from Paul.


This is my second time trying a hair system. I tried one last year but I was not ready for it psychologically. I had my new one fitted last week and I am very happy with the Revive ladies system. For the first time, I am wearing my hair a bit longer and I am liking it very much :). I am feeling more confident and it looks very natural. Thanks to Lisa for all her support and a particular thank you to Debbie who did a fantastic job at fitting and cutting it into a great shape.


Take The Leap & Contact Our Hair Clinic in Manchester Today!
We offer a FREE initial appointment at our hair clinic in Manchester where our friendly staff will talk you through the process and discuss what your best options are.  No hard sells, just trusted advice from The Hair Growth Studio.
Hair Systems In Manchester – A Hair Replacement System You Can Trust
If you're one of the many people searching for a hair loss treatment in Manchester, it's always important to make sure that you find the best hair replacement system that works for you. At the Hair Growth Studio, our team are specialists in non-surgical hair replacement with decades of experience providing hair systems in Manchester to individuals of all ages – regardless of whether they are male or female.
Thanks to our extensive experience, we are more than aware of the mental trauma and social anxiety those suffering from hair loss often feel. That's why when you visit the Hair Growth Studio, you can rest assured that not only is discretion a top priority with all of our clients, but that you are dealing with a team of professionals who truly care about the confidence you will gain once you see the results of our hair replacement system.
The team at Hair Growth Studio will also discuss after-care, and how to maintain your hair system to keep it looking healthy and full of life. So if you're looking for a hair system that works from an experienced hair loss clinic in Manchester, why not get in touch today?
Find out more about our hair clinic service for women:
Find out more about our hair clinic service for men:
The Location Of Our Hair Clinic In Manchester